Best Hosting for WordPress: The Definitive Guide of Pros and Cons
WordPress is one of, if not, the best acknowledged CMS (content management system) on the market today. Since its humble beginnings in 2003 when it was a tool for building a blog, it has developed and outgrew its primary purpose to become the power of more than 30% of websites globally. Check out more fantastic WordPress statistics facts below!
Today, all you need to have a beautiful WordPress site is a web hosting for WordPress and a web developer who can craft the uniqueness of the site. However, there are many types of web hosting services and sites for WordPress to choose from. To help you make the right choice, I'll list the best web hosting for WordPress along with their pros and cons. That way, regardless of you being a developer who needs help in choosing web hosting or a business owner looking for the best option for their site, you can find your answer.
WordPress Facts 2021
If we are getting into details, WordCamp says that WordPress powers over 75 million websites. These amazing facts are also supported by the big brand names that use WordPress including TechCrunch, The NewYorker, BBC America, Bloomberg Professional, Variety, Sony Music, MTV News, Playstation.Blog, Microsoft and many others.
WordPress is trusted by millions of satisfied users worldwide. It provides excellent opportunities to build user-friendly sites with great value both for the users and businesses.
Here are some more fantastic WordPress facts updated for 2021 by WP Data Tables.
Each month people use WordPress to generate 70 million posts and 77 comments.
WordPress has been downloaded 28 million times so far
There are 162 existing local languages, but WordPress is actively used in 68 of them.
WooCommerce, the eCommerce plugin by WordPress is used by 31% of all eCommerce websites.
Every hour there are 7.5 million spam comments blocked by Akismet.
There are 57661 official WordPress plugins.
Yoast SEO is the most popular SEO plugin for WordPress, and it has been downloaded more than 135 million times.
Now, let's look at the types of web hosting sites for WordPress and their pros and cons.
What Is Web Hosting?
Surely, a web developer would know this, but since I am trying to speak to business owners who are in need of a website, too, here is an explanatory paragraph.
Web hosting server is a space where all the files from a website can be stored. Hence the name – a server hosting the website files. Basically, the web hosting server makes the files such as codes and images available for viewing online. By buying a web hosting service, you are renting or buying space to place your website on the World Wide Web.
The web hosting plans are different from company to company, and they range from free with limited options to expensive solutions specialized for businesses. To choose a suitable plan, you need to consider the website's primary use – whether it is informative, of business nature or you plan to use it to sell products or services.
Another important note before jumping to the list is the difference between a domain name and web hosting.
Domain Name VS Web Hosting
The domain name is your website's address that people write in the URL bar in the browser to get to your site.
On the other hand, web hosting is the space on the world wide web that keeps all your website files online. To buy or rent such space, you need to turn to web hosting companies.
Even though the two are very different, they work together to make it possible for your website to exist online and be visited by people. Also, you can't have a website unless you have them both – the domain name will help people find you, whereas the web hosting will give you space to build your website.
Web Hosting Plans
First, you need to know that you can choose a plan, and if you are not satisfied, you can easily switch at any time.
Next, you should differentiate between these types:
Shared hosting
VPS hosting
Dedicated Hosting
Cloud Hosting
Managed Hosting
Collocation
Shared Hosting
As the name suggests, this type of web hosting can be shared by hundreds of users because a single server can house hundreds of websites. This means that the costs for running the web server are also split between the users, making it the most convenient way budget-wise. The cost can be as low as $5 for a plan per month. However, the low price comes with several downfalls, too.
The most notable one is the bad-neighbour effect. Say, if an issue arises and uses up to 70-80% of the available memory on one website, all other websites on the same server will become unavailable. The same goes for security. If one of the websites is attacked, many others on the same server could suffer the consequences.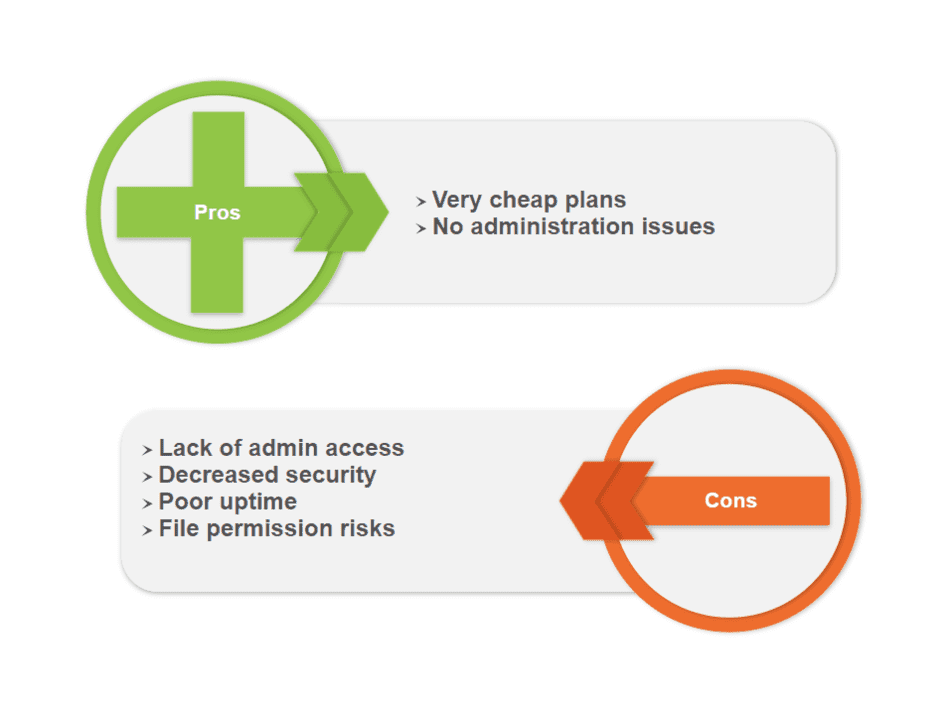 Great for experimenting and aren't interested in making huge cuts of the budget at the beginning, or you have a very tiny budget.
VPS Hosting
VPS Hosting stands for Virtual Private Server and is an upgraded version of the Shared Hosting Plan, fortunately without the cons. It is still shared, but not by hundreds of users, and each user gets an equal portion of the server. So, if there are five users, each of them will get 20% meaning, one account can't use 80% of the server like in the Shared Hosting plans.
This feature makes the VPS Hosting a more secure option than Shared Hosting.
The pricing differs from $5 to $15-20 per month. If you can plan this sum in the budget, it is recommended to go for the VPS hosting rather than choose the Shared. Plus, you can do a lot more with your portion like install tools, enable SSH access or choose from the several administration options available.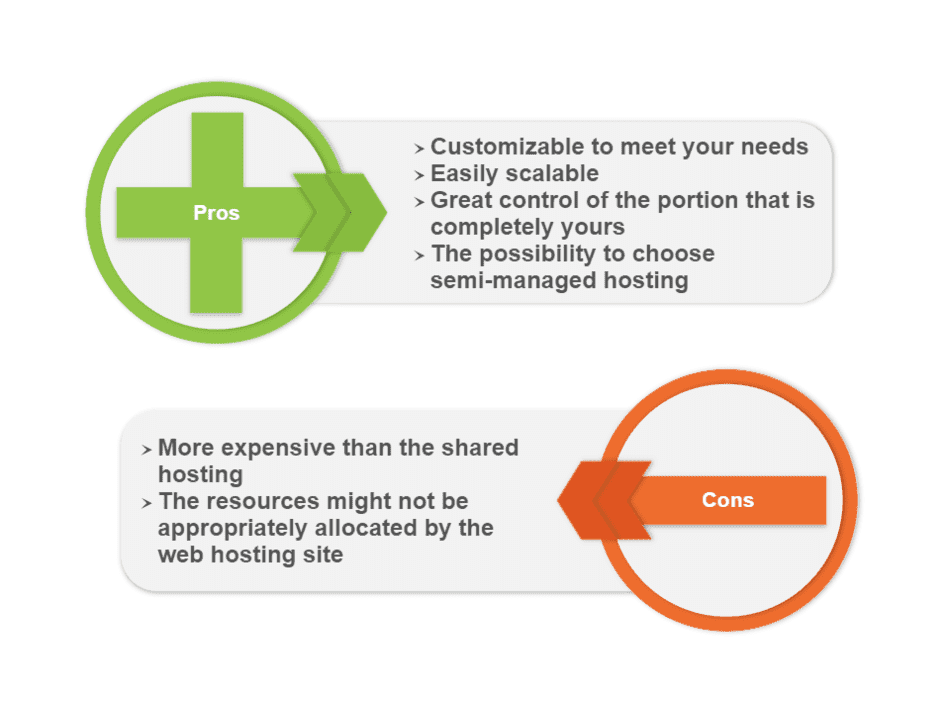 Great for mid-sized or large businesses that are well established and generate a high volume of traffic, and you want access to 24/7 support.
Dedicated WordPress Hosting
This type of web hosting is for people wanting to be the only user of the whole space on the server. It gives the most control over the server as you have full root and admin access. That way, you are able to control all the aspects on the server – from security to the running operating system.
Naturally, that kind of control costs much, hundreds of dollars a month, making them one of the most expensive web hosting options.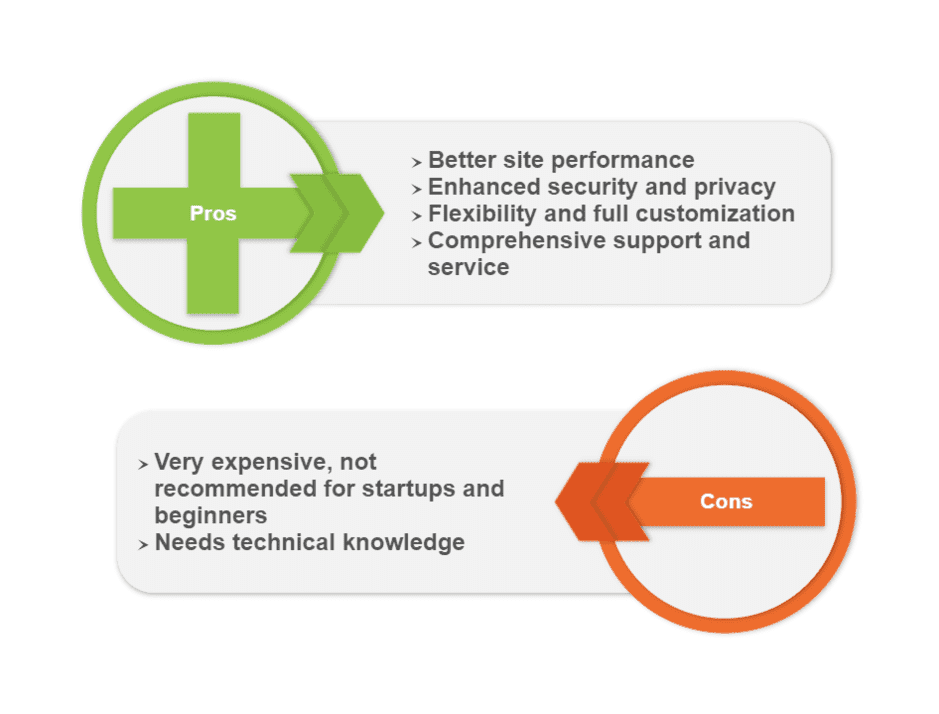 Great for website owners with lots of website traffic and those who need complete control of the server. Plus, the dedicated web hosting requires a high level of technical expertise to instal and manage the server continually.
Cloud Hosting
The newest addition to web hosting types, cloud hosting functions like a utility where many computers are working together and running applications using combined computing resources. This way of operation makes maintaining your own computing infrastructure redundant. Instead, the mutually used resources are spread over several servers, thus making server malfunctions reduced. In addition, cloud hosting is scalable, which means that you can grow your site in future while using the resources you need and paying only for the things you are using at the moment.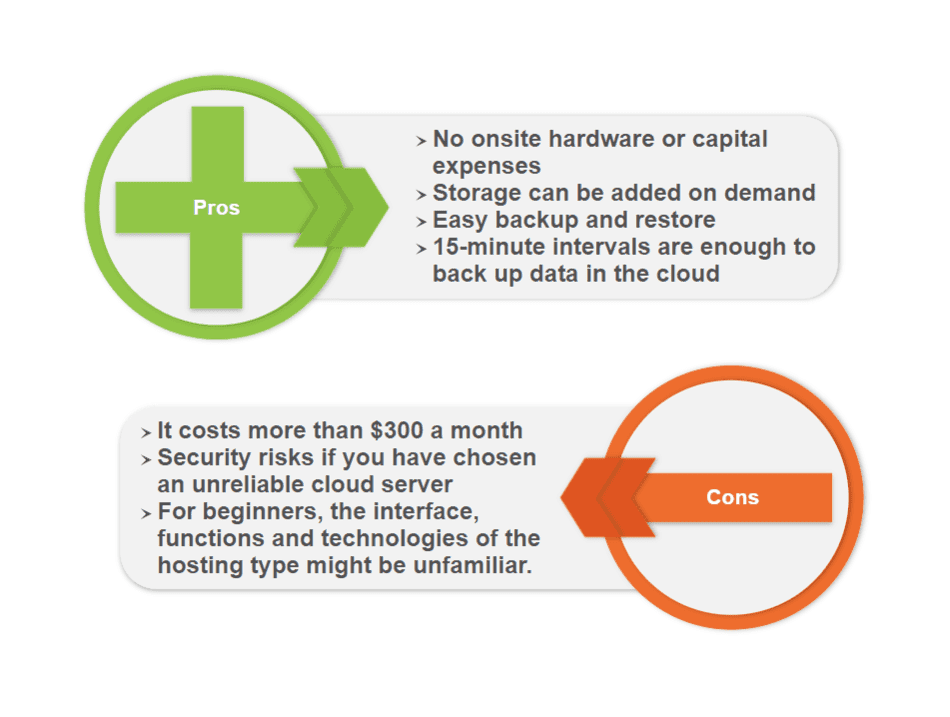 Great for websites that are rapidly growing and need scalable resources.
Managed Hosting
Managed hosting refers to the service of management that the web service provider is offering. This includes technical services such as hardware and software setup and configuration, maintenance, hardware replacement, patching, technical support, updating and monitoring. By paying for a managed web hosting, the website owner doesn't need to worry about the web server's day-to-day management.
The price is usually calculated as an add-on service. First, the regular housing plan is calculated, and then the management cost is added. For example, if you are looking for a standard managed hosting plan, it would cost you about $30 a month. However, if you need extra technical support time, you might find that most companies charge $50 – $75 per hour. Other companies offer fixed rates for their management services, from $230 to $400 a month.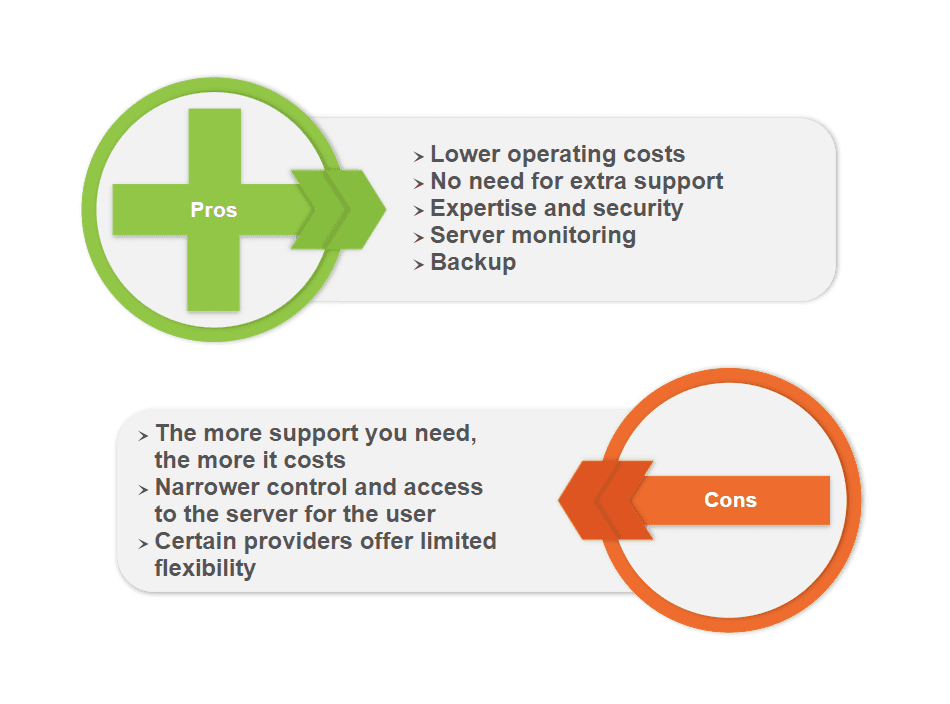 Great for small and medium companies and non-technical users who want to leave the tech tasks to experts.
Colocation
Finally, you can choose to co-locate your equipment by renting space in a colocation centre instead of using in-house servers or at a private data centre. This way, you will have access to bandwidth, IP address and cooling systems that the server requires while the colocation centre will power the hosting.
One great thing about these centres is that they give access to a higher bandwidth level but for a much lower cost than a normal office server. Keep in mind, though, that you will be responsible for the maintenance of the whole package.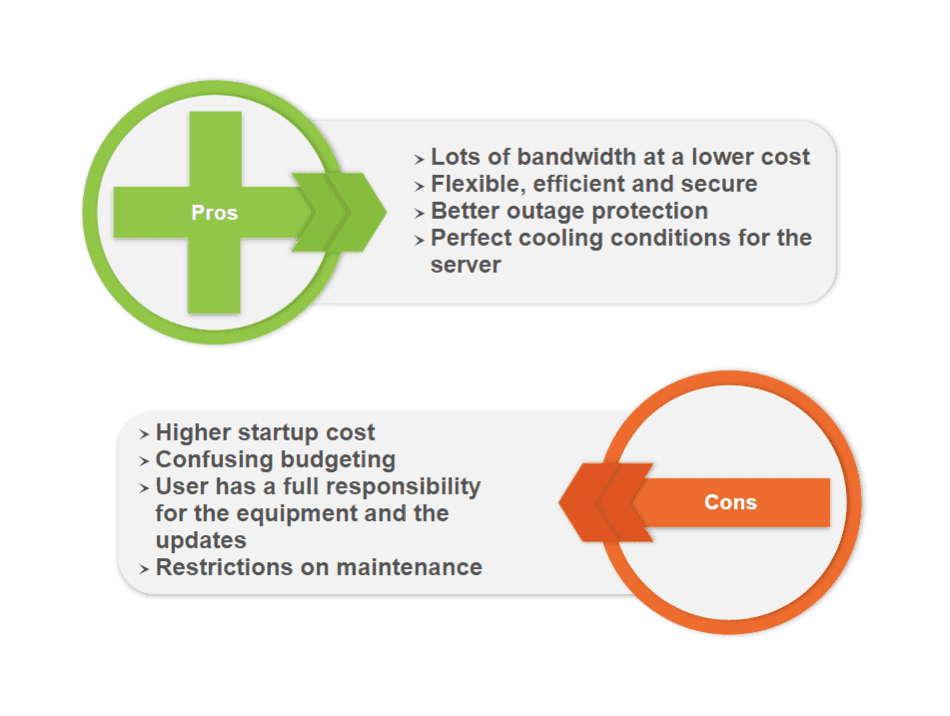 Great for wanting to have maximum control over the hardware and software.
Best Hosting for WordPress
Now, let's have a look at the top 5 best hosting providers for WordPress. The list that follows is created based on my research, some experience and reviews by long-time users.
Cloudways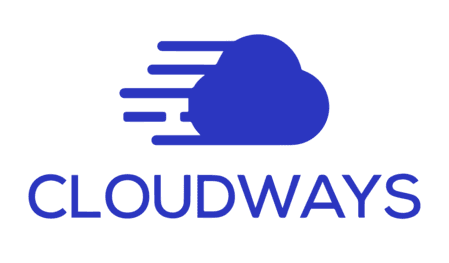 Cloudways is a managed cloud hosting platform that focuses on avoiding all web hosting hassles. They guarantee unmatched performance, reliability and 24/7 support. One of this platform's benefits is that it enables you to go live in just a few minutes with the help of their 5 cloud providers, unlimited applications and all PHP apps supported. Their performance is considered one of the best since it includes an optimised stack, built-in CDN, auto-healing servers and PHP 7.3 Ready Servers.
When it comes to the cost, it offers a free trial without a card guarantee. The paid plans are $10/month, $22/month, $42/month, and $80/month.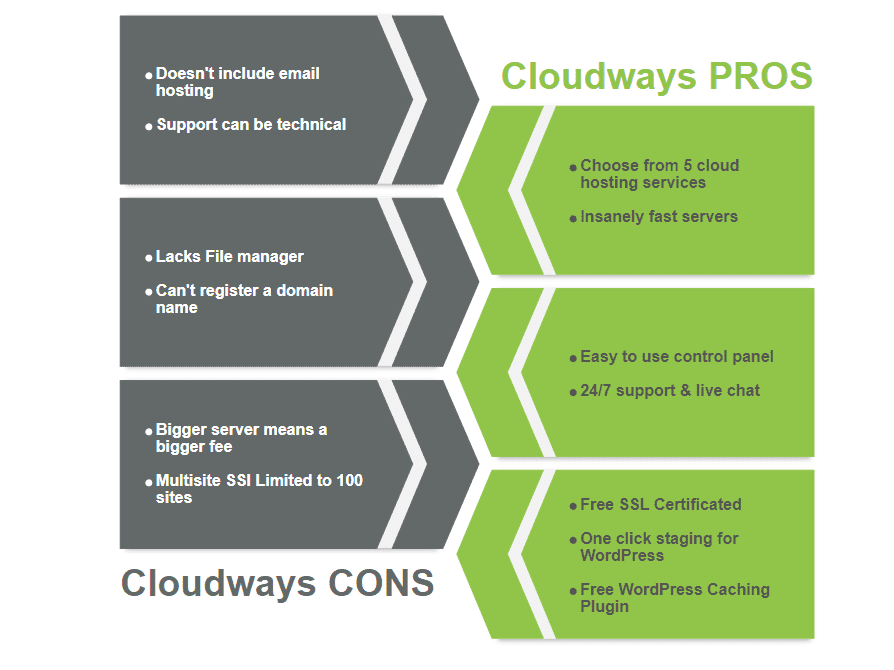 Good for developers looking for easy and fast migration of their WordPress site
Bluehost
Many WordPress users choose Bluehost as the best hosting for WordPress simply for the great shared web hosting solutions they offer at super affordable prices. As a hosting, it is specifically targeting beginners who are new to website building.

With Bluehost, it is easy to start with a standard shared hosting plan, instal WordPress with one click and then, when you expand, to scale. In this way, it is extremely easy to speed up your site and improve security. All in all, Bluehost covers everything that a beginner needs from a host and is the cheapest hosting for WordPress.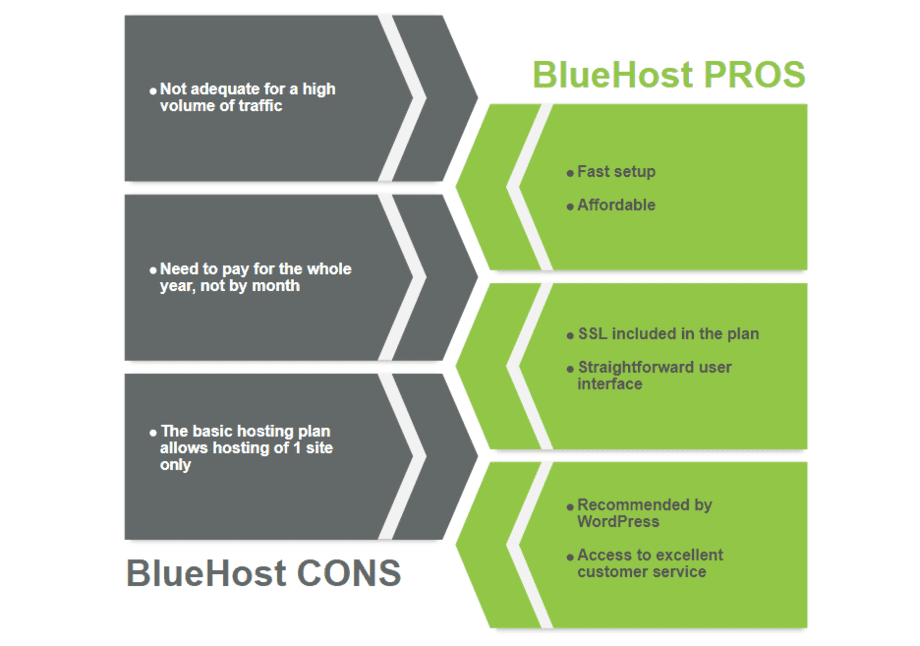 Great for beginners.
DreamHost

When WordPress was asked for recommendations about which hosting is best for WordPress, one of the other three answers was Dreamhost.
Dreamhost offers shared web hosting at affordable prices that can be paid month by month. Their plans start at $3.95 a month, and the package includes one website with unlimited traffic, a free SSL certificate. Plus, it is also recommended by WordPress. One thing that is different with Dreamhost is that they don't use the standard cPanel the other hosts use.
Instead, they use a custom control panel for website management. You can easily migrate off Dreamhost if your site grows. Another great thing about this host provider is that the trial period is the longest of all hosts – 97 days. Also, no price jumps after the first contract is finished.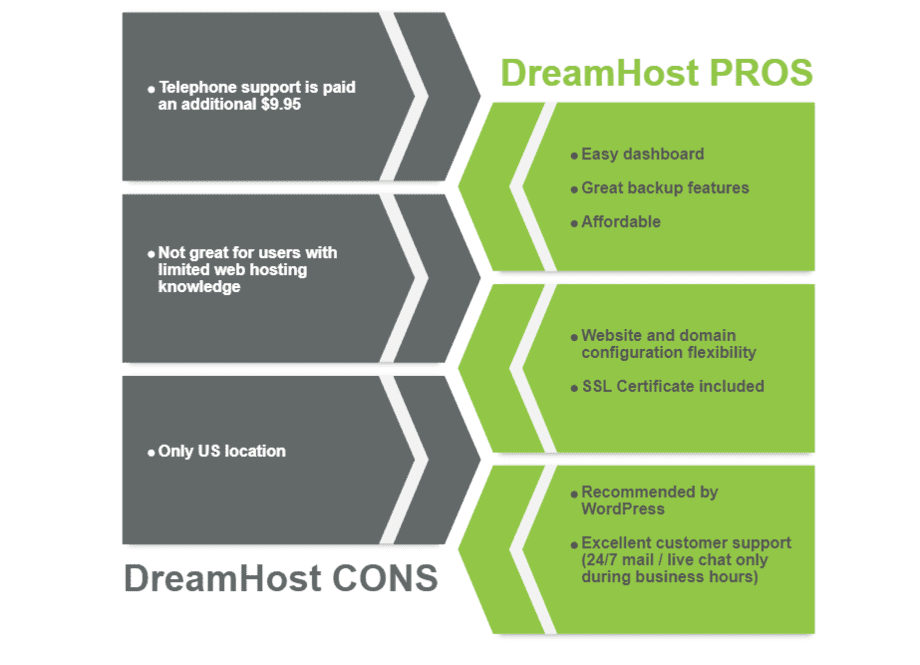 Great for developers who want more control over their websites.
HostGator
This is a web host that focuses on providing services to small businesses. Plus, it has a great customer support service that is extensive and in all shapes – how-to guides for technical support, phone, live chat and email – and the best of all – all of it is included in the plan. It also offers a 45-day money-back guarantee and test period. You can scale if you need due to their VPS options. The starting prices are $2.75.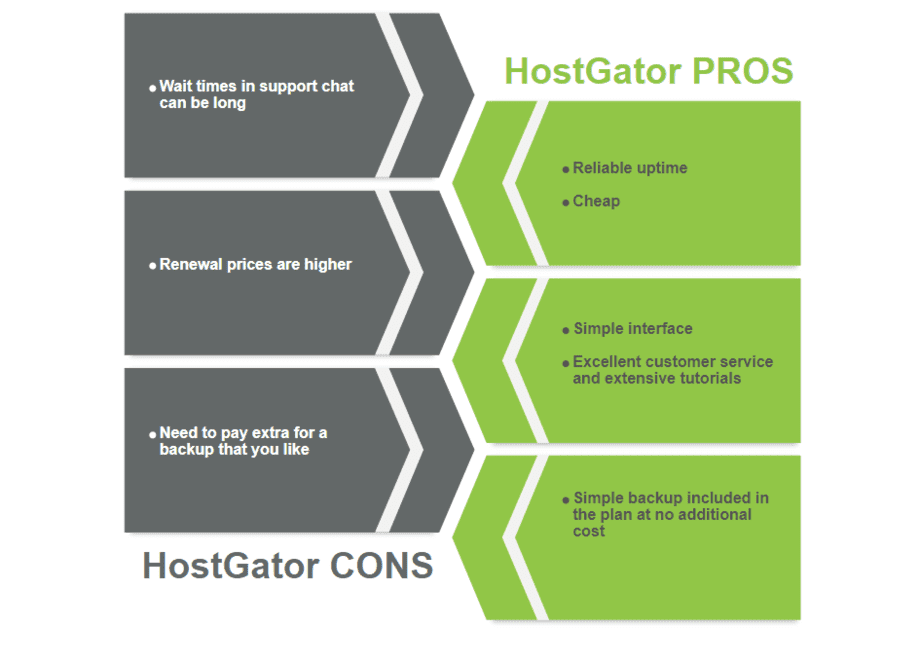 Great for lean and minimal needs and small businesses.
SiteGround

Siteground is a web host provider recommended by WordPress for its expansive fan base and excellent reviews. It is probably the most loved and best hosting for WordPress, according to the stellar reviews on SiteGround's site. This is due to the fact that SiteGround has an infrastructure that is fully optimized for WordPress. Google Cloud is leveraged with an ultra-fast network and storage that is SSD persistent.
It is a shared type of hosting, but their servers are ultra-fast and extra secure. It can cater equally good to small and large businesses. The starting price is $6.99 a month, but it will jump to $14.99 after the introductory pricing is finished. Their top tier prices are $14.99 a month to $39.99 a month.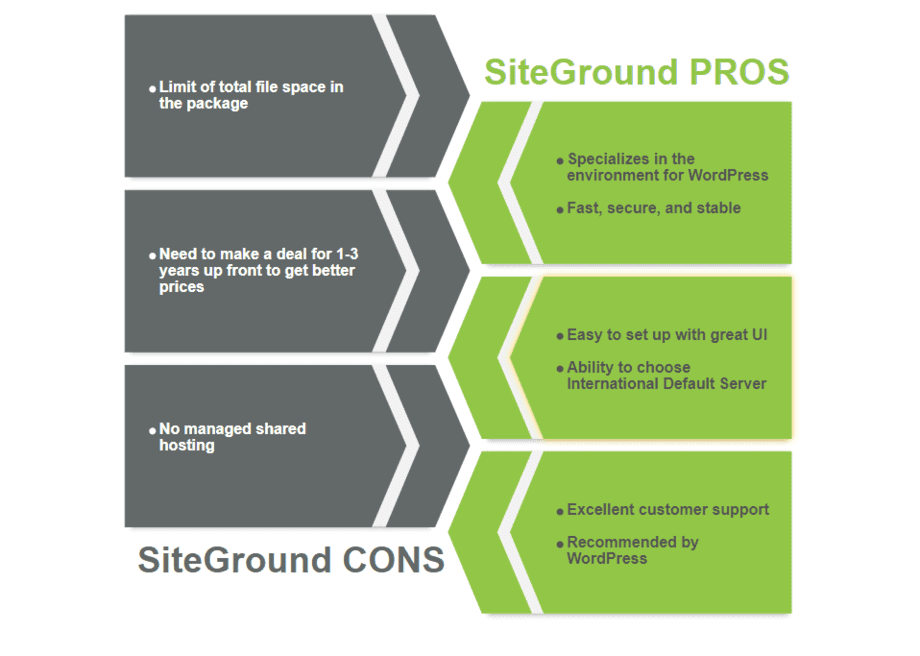 Great for small and medium sites.
Digital Ocean
Digital Ocean is a web hosting that focuses on helping developers launch more apps faster and easier. It offers a solid-state drive with a user-friendly platform and an excellent uptime of 99.99% from June 2020 to January 2021. It is a cloud hosting type of web hosting server, and it starts at $5 a month based on usage.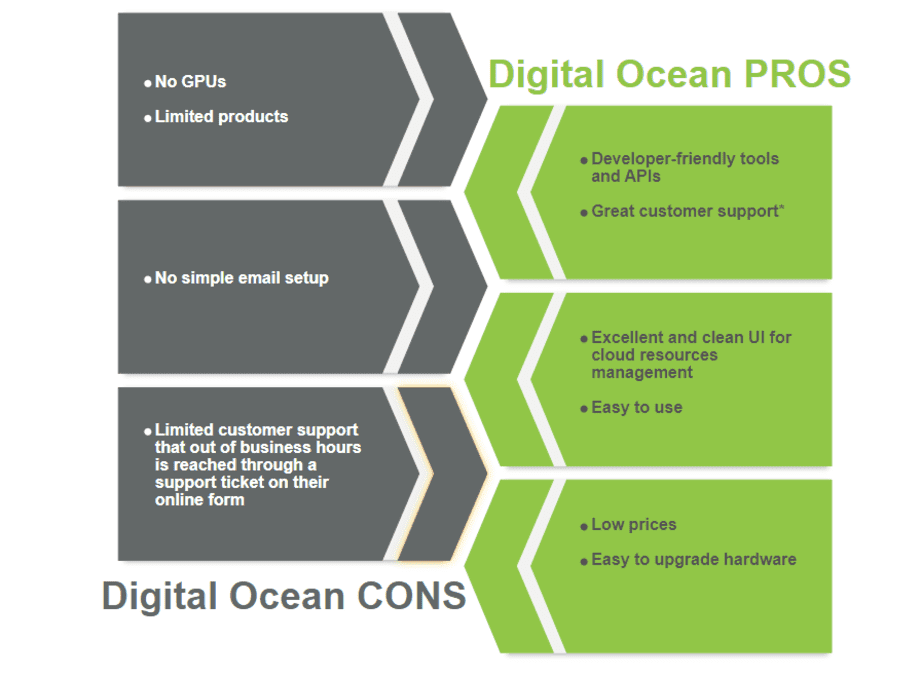 Great for advanced, tech-savvy users.
This article is brought to you by
The Web Developer That Your Brand Needs
Check my work